Buying baby gear and essentials for my first child was not the experience I thought it would be. I remember walking into a giant baby store, pregnant, and feeling completely lost. I had no idea what to buy or what mom approved 'must haves' needed to be on my list. It is not easy to figure out what brand and model of crib, bouncy seat, pack n play, and bassinet to pick! I felt totally overwhelmed and completely discouraged.
Fast forward to my daughter's arrival. Within the first few weeks we were struggling, as most new parents do, with the adjustment of a new baby. We were all functioning on very little sleep and getting in another hour or two, however and wherever, was all I could manage. Reactive co-sleeping is what I call that phase. Exhausted parents resort to falling asleep on the couch with their baby, or have their baby sleep in their swing or bouncy chair – because that's all that works. It is something that many parents who come to Good Night Sleep Site are struggling with, and in those first few weeks of motherhood, I was guilty of practicing it as well. It is very common, but new parents need to know that reactive co-sleeping can be a very dangerous due to unsafe sleeping environments.
Sign Up For Our Newsletter
A Better Way – The Baby Box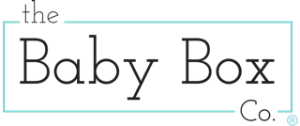 The Baby Box Co. program is changing lives and providing the best start for new parents. Beginning in Finland in 1938, this program has now been adapted throughout the world. The Baby Box Company's Founders Jennifer Clary and Michelle Vick have brought this tradition (one that has lowered Finland's infant mortality rate to one of the lowest in the world) to Canada as wonderful gift to new or expecting parents.
Their mission is to continue this lifesaving practice by creating a portable safe sleep environment equipped with products that meet the applicable international safety guidelines and standards, including those from Health Canada.
"All materials from the ink on the exterior of the boxes to the glue used in their production are non-toxic and environmentally safe." – The Baby Box Co.
The Baby Box Co. is the only accredited supplier of tested, safe-certified Baby Boxes anywhere in the world. This August 2016, The Baby Box Co. program will be launching throughout Ontario.
But is it safe for your baby to sleep in?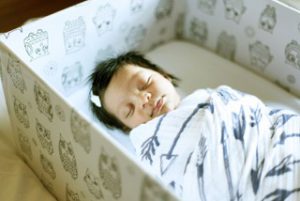 Even with Finland's proven lowered infant mortality rate, my first thought was 'how safe of a sleep environment is the Baby Box'? I was pleased to see that the importance of safe sleep is a priority for this program.
The Baby Box Co.'s advisory board includes a member who serves on both the State of California's SIDS Advisory Council and the Northern California Regional SIDS Council.
Their mattresses are firm foam pads, which have been independently certified as non-toxic and safe by CertiPUR laboratories. Specifically, they adhere to the following:
No PBDE flame retardants
No prohibited phthalates
No ozone depleters (CFCs)
No mercury, lead or heavy metals
No formaldehyde
With the firm sides of the box and fitted mattress sheet, the box can reduce the risk of infant suffocation and other sleep-related causes of infant death. The Baby Box offers a safer sleep environment then the couch or bed with mom or dad. I recommend baby to be moved to a crib by 4-5 months of age and to keep the box placed on a stable and flat surface. Parents should always be practicing the ABC's of safe sleep and placing baby alone, on their backs, and in their crib or individual sleep environment like their baby box.
Why else do I need The Baby Box?
Remember my anxiety walking in to register for baby items? Well, The Baby Box Co. simplifies all of that. Within the Baby Box are approved products, coupons, and discounts from collaborating companies, like Pampers Canada. I was so happy to see Pampers involvement. We were a Pampers house for over five years! Since Pampers Swaddlers are the #1 choice of new moms*, Pampers partnership with The Baby Box Co. makes sense. Canadian organizers know they can count on having quality diapers and baby wipes for Baby Box recipients, and that makes a huge difference.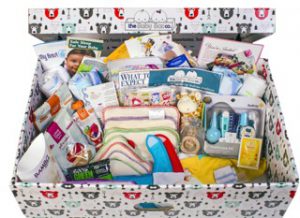 The Baby Boxes can be purchased as a standalone item or filled to the brim with new baby essentials handpicked by the experts at The Baby Box Co. Visit their online store to see what can be added.
*Based on sales of Pampers Swaddlers NB-2 diapers
What makes this Baby Box Program stand out from others?
I think one of my favourite things about this program is the educational component. Not only is each box a safe sleep environment for your baby and filled with practical product, but it also contains education materials, including a membership to Baby Box University, a fantastic resource for every parent.
Good Night Sleep Site recently sat down with Jennifer Weber, Chief Education Officer from The Baby Box Co., to talk more about this great initiative that will soon be arriving in Canada. Take a minute to watch the video. Don't forget to register on http://www.babyboxuniversity.com to receive an alert when free Baby Box distribution centers are announced in your area!
Alanna McGinn unboxed The Baby Box Live on her Facebook page! Watch below to see her unveil the fantastic products and resources for new parents.
Disclosure: Good Night Sleep Site and Pampers Canada have partnered to help parents get a good night's sleep tonight for a successful day tomorrow. All opinions expressed are those of the author.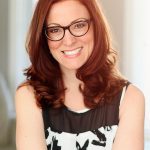 Alanna McGinn is a Certified Sleep Consultant and Founder of Good Night Sleep Site – a Global Pediatric and Family Sleep Team. She provides free child and family sleep support through her Facebook, Twitter, and Instagram. She invites you to join her sleep community as she works towards Good Night Sleep Site's mission of a healthier rested family unit. For more sleep tips please visit Good Night Sleep Site. Join our movement and #BringBackBedtime.