A common question I get asked from my parents is "how do I stay consistent with my babies sleep plan when I have an older child that I have to think about as well."  I completely understand where they are coming from and can totally relate. Let's take it back to last summer.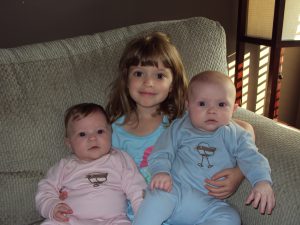 I had 4 month old twins and a 3-year-old and I was just starting to carve out a sleep plan for Lila and Duncan but really struggled with how I was going to add Sophie into their routine.  The poor kid was going to be so bored if I was stuck at home while getting the twins adapted to their new routine.  I really only had the mornings to worry about as she took an afternoon nap at the same time but when they went down in the morning I was stuck at home.  It was summer and beautiful out and it wasn't fair to her.  Remember in those first few weeks of training, consistency is everything.  What do I do with her?  How do I make the mornings fun for her, while not being able to get out and about as easily as I would like?
Here are some tips that got us through the summer, got my twins sleeping, and kept my eldest daughter happy and busy.
Get help!  The BEST thing I did was hire our 15-year-old babysitter, who my daughter knows and loves, 2 mornings a week.  She would come over for 3 hours in the morning and hang out with Sophie.  She'd play with her outside, take her out on her bike or to the park.  She'd keep her nice and busy, Sophie had a blast and I was able to stay home with the twins.  While they were down for their nap I could do some cleaning or fold the laundry, and it was definitely worth doing.  If you can hire a sitter or even better recruit Grandma or Grandpa for free, work them into your weekly schedule for the summer.  Your child will love the attention that you may not be able to always give them because you're dealing with a baby, and keep them from getting too bored.
Playdates are great!  You may think I'm crazy by telling you to invite more children to your house but it actually works perfectly.  This way you don't have to physically go anywhere and she is having a blast playing with her friends.
Sign Up For Some Program Fun!  Your community will have programs perfect for your little ones active needs.  If it's tough to get out, see if you can sign them up with a buddy and arrange carpooling with the other parent.  Can the Grandparents drop off and pick up?  Even if it's just one morning a week, she will love it!
Use your time alone together to bond and have some quality time together.  This is a great opportunity to focus all of your attention on her, when that can be tough to do when the baby is awake.
Sometimes all it takes a little organizing and some outside help and you can feel good knowing your toddler is still able to have fun while you're encouraging healthy sleep for your new baby.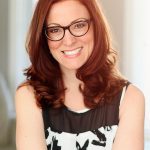 Alanna McGinn is a Certified Infant and Toddler Sleep Consultant and Founder of Good Night Sleep Site – a Global Pediatric and Family Sleep Team. She provides free child and family sleep support through her Facebook, Twitter, and Instagram. She invites you to join her sleep community as she works towards Good Night Sleep Site's mission of a healthier rested family unit. For more sleep tips please visit Good Night Sleep Site.