Is it Time For Your Corporate Retreat?
Building my corporation into a successful global practice hasn't always been easy. For over 8 years I have navigated through the storms and celebrated the successes, and all from the basement of my home. Surrounded by unfolded laundry and toys. I am the definition of the "Work at Home Mom." I run my business, manage my team, support my clients, while making lunches, getting drinks, referring sibling squawks, and working around bus stop pick ups.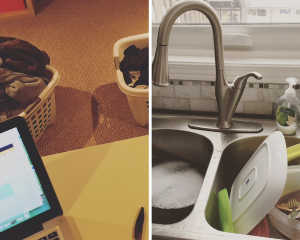 While I know how fortunate I am to be able to work for myself and from home and have that flexibility for my kids, there are days when I would give anything for a cubicle. To have four walls around me, a door to shut, and other adults to talk to. So when Impressions PR and Days Inn Canada invited me to their #DaysInnBizcation work retreat I jumped at the chance.
Days Inn created #DaysInnBizcation work retreats for those who need exactly that – a place to escape where you can focus on your business and yourself. This experience was created so that you can leave the distractions of your life behind and create your own 'Land' for a day or two.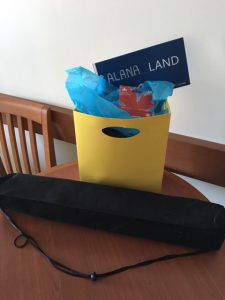 Wouldn't it be amazing to be able to go away, rent a hotel room, and get everything I need to get done, DONE!
Days Inn makes that possible, and without breaking the bank I was able to enter 'Alanna Land' with some other amazing women entrepreneurs.
What I immediately noticed upon our arrival at Days Inn Collingwood was the bright well kept lobby and staff that were warm and friendly. They made sure to make all our needs met with a smile and kind greeting. We were quickly checked into our rooms and I have to admit I was pleasantly surprised upon entering my 2 double bed suite. Each room was bright and clean and I got all the feels I want to feel when walking into a hotel room. The room was spacious, sheets were crisp and clean, the couch sitting area and desk were perfect to get down to do some work, and the updated bathroom was equipped with fresh towels. A bonus was that each suite is equipped with a mini fridge and microwave and request a king suite to get a large jacuzzi tub! I was only there for an overnight so while the fridge wasn't really needed it kept my bottles of water cold and with a Metro grocery store across the parking lot I can imagine that these items would be perfect for families or business people staying longer durations. Overall for rooms from $89.95 per night this was perfect accommodations for an overnight work retreat.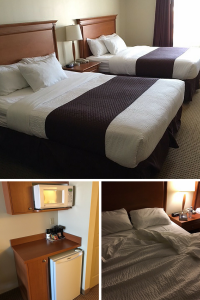 If you are planning your next #DaysInnBizcation work retreat it's important to understand how to prepare and it's really important to know what to bring.
The Work Project You've "Been Meaning to Tackle"
A work retreat should be for just for that – an opportunity to remove yourself from your usual work abode and work in a quiet and peaceful environment. #DaysInnBizcation allowed me to do just that. Knowing that I would be in the comfort of my own hotel room able to tackle a project uninterrupted was EVERYTHING. This is the time to choose a project that you have been meaning to start but haven't had a chance to and get cracking. Let those relaxed creative juices flow and finally mark it off your to-do list. Between my business and family it's hard for me to sit down to just simply read a book. It's important for me though to stay on top of information coming out of my industry and practice continued education so I have to find the time to read current studies and books on the topic of sleep health. It was during my #DaysInnBizcation where I was able to read Arianna Huffington's new book The Sleep Revolution to not only prepare my interview questions for her but also read this fascinating book. I would never get a chance to do that at my office/home. And of course my Brookside chocolates needed to come along on the trip as well.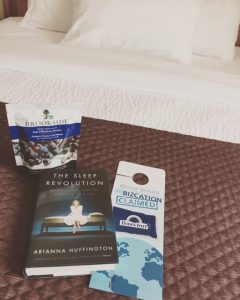 Your A-Game and Your Creativity Hat
When you are in a room surrounded by fellow entrepreneurs the business ideas and solutions start flowing. We had the pleasure of attending a coaching session with Marysia Czarski and with her help and guidance our group of women were able to open up about some of our biggest business ideas, insecurities, and obstacles, and discuss them together. This is what a #Bizcation is all about – entrepreneurs coming together and working together. When you are a solo business owner being able to spend a few hours with others who understand and can relate to your entrepreneurial struggles wonderful. After having a new set of eyes on my business I was able to walk away with new ideas and inspiration to tackle certain divisions within my company. It was an amazing experience that I know everyone there shared.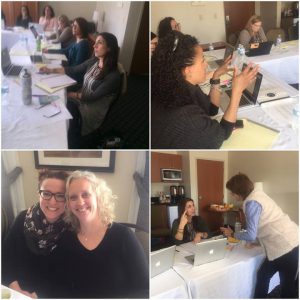 Take Along Your Comforts of Sleep
Even though my Days Inn room was clean and comfortable and the beds were #GoodNightApproved it can be difficult for some to sleep in a strange bed and get the same quality sleep that they would at home so don't forget to pack items that will help make an unfamiliar environment more familiar. Create your own sleep-kit and throw it in your overnight bag. Your kit could include an eye mask, earplugs, familiar scents, a paperback novel you are reading before bed; you could even pack along your own pillow case from home. The familiar scent and feel can help you fall asleep easier and sleep more soundly.
Smiles and Laughter
I was able to also use this time away to connect with fellow business women and reestablish some old connections and ignite new ones. That can be so tough to do when you get lost in your usual day-to-day. While my solo work time was valuable time I cherished, it was so wonderful to be able to go out for dinner with friends and eat some great food, and enjoy our time together. A perfect way to end such a successful experience for myself and Good Night Sleep Site.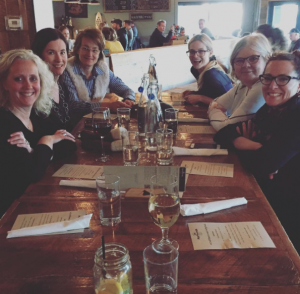 This #DaysInnBizcation made me aware that something was missing from my business and that was allowing myself to lift my head out of the usual day-to-day calendar in order to get re-inspired, reconnected, and to re-establish new goals, while finally being able to complete old ones. You need to enter your #Bizcation with a different frame of mind to truly get everything you need out of it and I am so thankful to Days Inn Collingwood for helping me do that and for Impressions PR for providing me the opportunity to do so. I plan on taking some of the magic back to the office and home with me, while I prepare to plan my next #Bizcation. It's time to plan yours as well.
– Alanna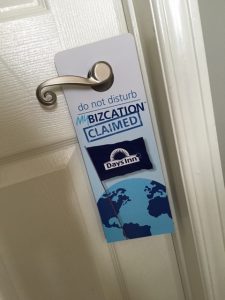 Thank you Days Inn Canada for supporting me on my visit to Days Inn Collingwood. As always, all opinions are my own.
---
Follow #GoodNightTravel for Good Night Sleep Site's Family travel and sleep adventures and tips.
Alanna McGinn is a Certified Sleep Consultant and Founder of Good Night Sleep Site – a Global Pediatric and Family Sleep Team. She provides free child and family sleep support through her Facebook, Twitter, and Instagram. She invites you to join her sleep community as she works towards Good Night Sleep Site's mission of a healthier rested family unit. For more sleep tips please visit Good Night Sleep Site. Join our movement and #BringBackBedtime.