Work With Alanna McGinn And Good Night Sleep Site
Alanna McGinn is a trusted sleep expert proven to educate and support families and professionals. She has helped countless parents overcome their families sleep challenges and her public speaking and seminars are sought after at parenting functions, corporate events and major children organizations. She is a published and resident Sleep Expert in multiple print and online publications such as Maclean's, Prevention, Today's Parent, and Huffington Post. You can also find Alanna as the sleep expert on The Marilyn Denis Show, CBC's The Goods, CTV's Your Morning, The Shopping Channel, and City Line. She is also the mom of three young children (including twins).


Over the past ten years, Alanna has built a large engaged and loyal North American following through her websites, Facebook page and Facebook community, email marketing, Twitter, Instagram, YouTube and Pinterest. Contact info@goodnightsleepsite.com to start the conversation about working together, booking Alanna to speak, or to request a Media Kit.
Read Alanna McGinn's Full Bio
Read Press Highlights

Good Night Sleep Site is also about more than just sleep. We connect our audience with content that will improve both their health and well being, as well their families. We strive to share information that will contribute to a more rested, more relaxed and calmer and happier family and will collaborate with brands that support our work and are a good fit for our audience. Using a combination of our media platforms, we can tell a unique story about your product or brand to a broad and receptive audience.
If you feel you have a brand, product, and service that meets our standards, we invite you to connect with us. Alanna brings the perfect blend of education and humanity to her messages. As a mom, she knows how to speak so parents will listen, and as a successful business leader, she understands how to professionally execute your brand messaging by offering creative solutions in a real and effective way.


Alanna, You were awesome! Loved the natural integration of messaging. You're a star! Thank you!
---
Let's get your business and sleep health trending!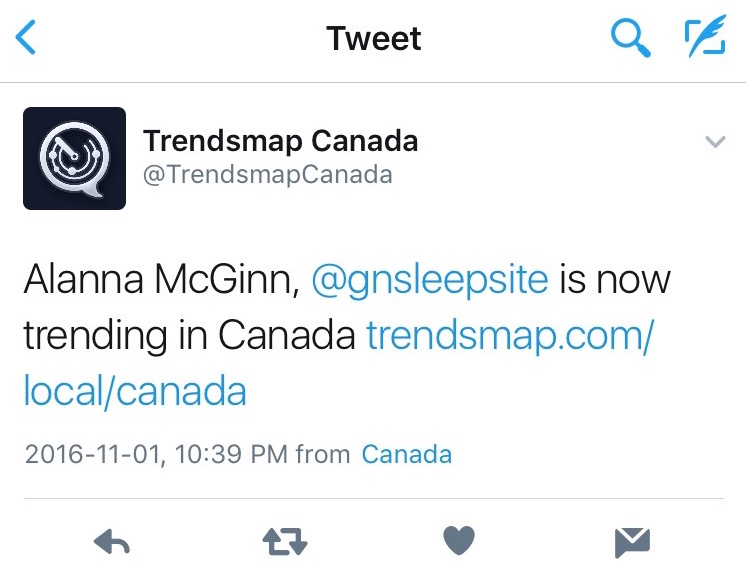 Product Content Roundups & Seasonal Content:
Our Favourite Back-to-School Bedtime Books
Past Campaigns Include:
Leon's Canada – How to Transition Your Child from Crib to Bed
Leon's Canada – The Importance of Sleep Health and a Great Mattress
Nestle Canada and Today's Parent – Cityline Segment
Philips Canada – Guest Showcasing at The Shopping Channel
Pampers Canada – Sleep Tools to Help Your Baby Sleep Better
The Baby Box Co. Ontario Launch
The Art of Leadership for Women
Walmart Canada Cuddleheads Pillow Release Party
Dove's Mother and Daughter Self Esteem Workshops
Keynote Speaking Or Bringing Alanna To Your Event
Whether she's speaking to a room full of parents or executives at a major corporation, Alanna shares her experience and education on sleep pertaining to the audience's needs. Audiences will leave her talk as experts of their own sleep hygiene. Alanna can turn those tired tears to laughter and cheers. Her natural ability to help a room of 25 or 500 attendees connect and come together is why Alanna is your choice for keynote speaker, workshop, webinar or breakout session.


Partial List Of Past Speaking Engagements:

The Toronto Baby Show – The Good Night Baby Sleep Tool Kit
The National's Womens Show – Top Sleep Tips to Better Women's Sleep Hygiene.
Pampers Canada – Moderated sleep panel with Olympic parents Mark Oldershaw and Annamay Pierse
Bayer – Adult sleep clinic for internal product launch
Life With A Baby – Speaker panel for managing the mother-load
Blissdom Canada – Panel expert on adult health and wellness
AON Hewitt – Creating sleep wellness lunch and learns for their clients EAP's
Eaton Canada – Sleep wellness lunch and learn
Most Requested Keynotes & Workshop Themes:
4th Trimester Newborn Sleep – Starting Healthy Sleep Habits Right From the Start
Baby Sleep Needs – The When, Where, How, and Why's of Baby Sleep
Toddler Sleep Needs – Taming the Toddler Bedtime and Nights
Sleep Training Multiples – You Can Sleep Again After Twins
Adult Corporate Sleep Lunch and Learn – Promoting Proper Sleep Hygiene and Quieting Your Mind to Sleep Better
Corporate Internal or Public Event – Pop-Up Sleep Clinic and Workshop
Corporate Employee Focus Group Session –  Child and Adult Sleep Needs
Client Appreciation Sleep Health Workshops
Moderator for wellness, business, parenting, and/or brand focused panels
Life Of A Mompreneur – Running a National Business While Staying Home With The Kids

For more information or to book Alanna, please contact info@goodnightsleepsite.com.