Do Your Customers Need More Sleep?
Do you run a business geared towards infants and children? Do you think your customers could benefit from professional sleep help for their kids?  Good Night Sleep Site holds seminars and workshops at child friendly locations like clothing boutiques, toy stores, indoor playgrounds, daycares, and schools.
If you would be interested in having one of our Sleep Site Seminars at your locations please contact us and we would be happy to work with you in creating one.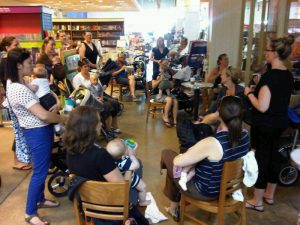 "Thanks so much! I learned a lot yesterday and after a lot of perseverance last night was the first night in a long while our 7mth old did not share our bed . He settled down around midnight and slept through to 7 am and I had to wake him! Just put him down for his first nap no problems!" 
"My LO was not a bad sleeper, but not a great afternoon napper so thought I'd try it after your advice … instead of fighting his tiredness, he relaxed instantly and although wide-eyed when I put him in his crib, he was able to put himself to sleep.  Thank you! and special thanks to Momstown for hosting this incredibly informative event!"