Ready to Invest in Your Sleep?
Do you have trouble falling asleep at night or back to sleep in you wake in the middle of the night? 
Are you exhausted all day but then toss and turn all night? 
That 3am waking is becoming all too common and clock watching is becoming a nightly occurrence. 
You're already dreading the next day because you know you'll be going through the day in a fog due to not sleeping. 
The moment your head hits the pillow your mind explodes and is so noisy you can't fall asleep.
You feel anxious and alone each night as you know you'll be up throughout the night while the rest of the world sleeps.

This DIY online sleep program includes the guidance and education you need to establish better sleep habits and a healthier relationship between you and sleep.
Through our 'This Adult Loves Sleep' DIY program, you will learn:
Simple steps and practices to change your behaviour to better your sleep health and
incorporate proper sleep hygiene.
How to incorporate "The Slow Down Cycle" at bedtime.
Ways to improve your cognitive relationship with sleep through Cognitive Behavioural
Therapy for Insomnia.
Ways to discover activities to lower stress levels and quiet your mind when your busy brain is keeping you up at night.
How to achieve your "Personal Pause" to lower stress and anxiety.
Nutritional changes you can make to help you get a better night of sleep and how your blood sugar levels affect your sleep.
Why an imbalance of your hormones may be affecting your night of sleep and which hormones you need to be focusing on.
How to establish a proper morning and daytime routine that will have a direct impact on
helping you fall asleep easier and stay better rested throughout the night.
How to maximize your sheets, blankets and bedding for a perfect night of sleep.
Online Adult Sleep Course Curriculum
90+ page Good Night Adult Sleep Program guidebook
Resources to help you sleep better, including info on mindfulness, bedtime breathing & yoga exercises
Recommended resources and products to help you on the right path to great sleep
7 audio lessons taught by our founder and lead sleep expert Alanna McGinn
4 free audio meditations by MINDmgt to download and use at bedtime
The option to purchase additional one-on-one support if desired/required
I dreaded the evenings because I knew it was soon time to go to bed, and I had begun to hate bedtime. I was so down on myself and how I slept. I was so frustrated with myself because even though I was exhausted I still couldn't sleep well. I felt like I had tried everything and still, I would toss and turn each night. My already stressed out brain would feel even more stressed out with the anxiety about how I would feel the next day. I knew that I had to make changes but I was worried about trying something else and it not working. I was blown away at how excited I actually got as I was going through each lesson. I would listen to the audio files on my way to work, or while making dinner. I felt like I finally had the education and answers I needed to sleep well. I learned to love bedtime and my bed again, and was finally getting the healthy sleep I needed. I now have the confidence and know-how to tackle any sleep issue that may happen down the road and look forward to a lifetime of healthy sleep. – Avery
Nobody loves sleep more than Good Night Sleep Site founder, Alanna McGinn! Since 2007, Good Night Sleep Site has grown into a leading source of sleep education and support for families across North America and around the world.
Alanna is a wife and mother of three (one + twins!) Her career as a sleep expert began shortly after her first child was born. There was so much out there on pregnancy, birth and breastfeeding – but she couldn't find any resources to support her when it came to sleep.
So, she started doing her research and had great success getting her daughter (and therefore herself!) the sleep she needed using the principles and techniques she had learned. Word got out that she'd 'cracked the code' and, before long, Alanna was sleep coaching all family members of all ages to sleep better.
It was clear there was a need for sleep health education and support for all ages and Alanna wanted to use her awareness, ability and understanding to help others who were struggling – so she became certified as Sleep Consultant through The Family Sleep Institute, and the rest, as they say, is history.
Since 2007 she and her trusted team of sleep consultants have successfully helped thousands of families, individuals, and major corporations overcome their sleep challenges and establish healthy nighttime habits so they can get the sleep they need.
In addition to running Good Night Sleep Site, Alanna hosts the top-rated This Girl Loves Sleep Podcast and she serves on the faculty at The Family Sleep Institute, She is also a sought-after speaker, resident sleep expert for multiple publications (including Forbes, Maclean's, Today's Parent, and Prevention Magazine) and the media sleep expert on Cityline, The Marilyn Denis Show, Breakfast Television, CBC Radio, Your Morning, CP24, CHCH Morning Live, and 680 News.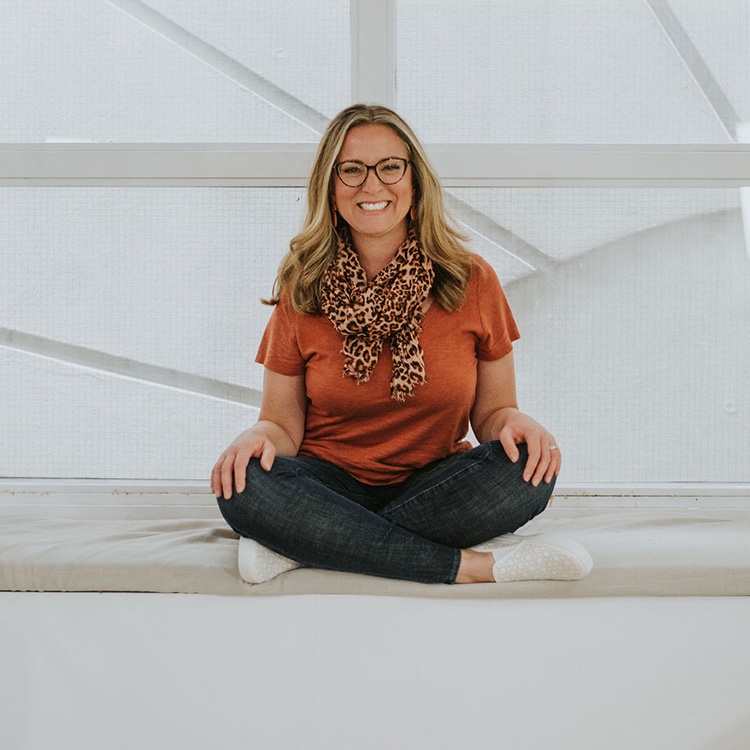 Our fearless leader, Alanna McGinn! Since 2007, she and her trusted team of sleep consultants have successfully helped thousands of families overcome their sleep challenges and establish healthy nighttime habits so they can get the sleep they need.
Getting a Good Night Sleep
Doesn't Have To Be Complicated
If you feel like you've tried everything and listened to everyone's advice and nothing seems to help you sleep better, the "This Adult Loves Sleep" program is the answer. Alanna has created a sleep program that is easy to navigate, with uncomplicated steps and practices that any tired and busy individual can effortlessly incorporate into their day-to-day life. Learning to sleep better doesn't have to be an overwhelming experience. 
The "This Adult Loves Sleep" program proves that.
The "This Adult Loves Sleep" program gave me the confidence that I could make the right changes in order to sleep better. I was worried that it would all be too much to take in and I would get lost and confused throughout the program, but the information that Alanna shares with us is easy to digest, and laid out and explained in a simple fashion that even my exhausted self could easily follow. I now have the tools to tackle any sleep bumps I hit down the road and it's truly amazing to go to bed knowing that I have a full night of sleep waiting for me. – Chris
Are you ready to get started?
This is a self-led sleep program and you will not be working one-on-one with a Good Night Sleep Site consultant.
Our Online DIY Adult Sleep Program includes the guidance and information you need to establish healthy sleep habits. We encourage you to sit down with your support system to share with them the steps you want to take to sleep better so that they can be behind your sleep plan as well.
If at any time you feel you require some one-on-one support, you'll have the option of booking a 1-hour support call with one of our team members for an additional charge. We'll answer your questions, provide support and help troubleshoot any challenges so that you can stay motivated and on-track.
More Courses and Programs We Offer