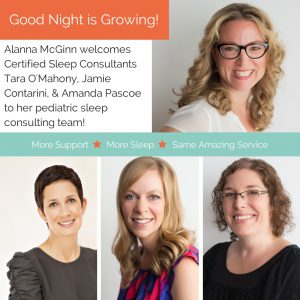 Happy New Year! I hope everyone had a fantastic Holiday and we at Good Night wish you all the best in this upcoming year. I have some exciting news to share! Good Night is growing! I am so pleased to announce the addition of 3 fabulous members to our Sleep Consultant team. Jamie Contarini, Amanda Pascoe, and Tara O'Mahony are Good Night's newest Certified Sleep Consultants – Tara being our first US consultant! – and they will be supporting our familes to ultimate sleep success!
Sign Up For Our Newsletter
This means our prices can stay the same and no more lead times. We continue to strive to help rid the world of sleep deprivation. You and your family deserve to get the heathly sleep you need to function as a happy and well-rested family unit. Myself and my team are here to help you.
I wish you a year of health, love, happiness, and of course – sleep!
– Alanna McGinn
Subscribe to Good Night Sleep TV 

here

 to be kept up-to-date on all upcoming shows.
Alanna McGinn is a Certified Sleep Consultant and Founder of Good Night Sleep Site – a Global Pediatric and Family Sleep Team. She provides free child and family sleep support through her Facebook, Twitter, and Instagram. She invites you to join her sleep community as she works towards Good Night Sleep Site's mission of a healthier rested family unit. For more sleep tips please visit Good Night Sleep Site. Join our movement and #BringBackBedtime.