In Part 1 of transitioning your little one from crib to bed I shared some tips on what to do before the crib even comes out of the room. In Part 2 of this series the homework is done, the bed is made and it's time for you're little one to say good night.  Now what?
Make it Fun!
Sign Up For Our Newsletter
Get your little one excited and involved in the process.  Have him pick out his new bedding and possible new decorations for the room. Get him practicing by putting his stuffed animals to bed.  Building that excitement will help him understand what is going to happen, and making it fun will make it easier for him to obey the sleep rules.
Make it Safe
It's important now to make sure his environment is safe.  Putting up a guardrail, shutting the door, or installing a childproof handle on the closet door will help with that.  Also putting the mattress directly on the floor with no frame, making sure his bedroom is safety proofed, and keeping sleep-distracting toys out of the way is not a bad idea.
Establish Sleep Rules Right From the Start
Incorporating things like a toddler alarm clock, bedtime routine chart, and setting limits can help in your journey and should be established from day 1.  You have to expect that he will get out of bed, as this newfound freedom will be too exciting for him to pass up.  Be prepared with your plan and firm in explaining it, as how you handle it right from the start will make a difference. If he comes out of his room, lead him back again every time, with little to no engagement. You may have to do this over and over again throughout the night but provided you remain consistent in setting those boundaries, after a few nights he will get the message.
Continue to Follow the Basic Sleep Fundamentals.  If you haven't started one yet, having a consistent bedtime routine, coupled with an age appropriate early bedtime, will help prepare your child that sleep is coming next.  He will feel safe and secure in knowing what to expect each night.
The crib to bed transition doesn't have to be difficult. It doesn't mean there will be issues. This is where having your child be comfortable in their sleep environment will help in the process and you can start that at any age. This is a big step for both of you and it can be a really fun time for both. Relax and enjoy it.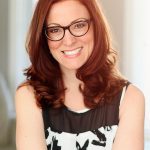 Alanna McGinn is a Certified Infant and Toddler Sleep Consultant and Founder of Good Night Sleep Site – a Global Pediatric and Family Sleep Team. She provides free child and family sleep support through her Facebook, Twitter, and Instagram. She invites you to join her sleep community as she works towards Good Night Sleep Site's mission of a healthier rested family unit. For more sleep tips please visit Good Night Sleep Site.