Practicing a consistent bedtime routine with your little one is an important step in everyone getting sound sleep at night. Following similar activities each night will cue your child that sleep is coming next by giving them that comfort and security in knowing what to expect.
Sometimes though your child needs some extra cuddles at night and while we would love to be able to spend the night cuddling away it's not always possible for mom and dad to do that.
Sign Up For Our Newsletter
Enter Cuddleheads.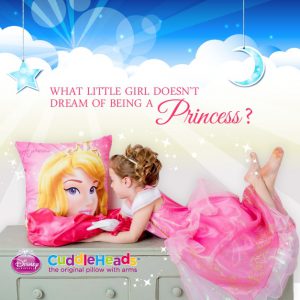 Co-Founder Barb Robilotto created Cuddleheads with her mother, who would hug Barb to sleep each night. With their dream of being able to give a hug to every child in the world they created these Disney Princess pillows with arms so children everywhere can fall asleep with a hug. These Cuddlehead pillows are super cute and fun and the perfect addition to your child's bedtime routine. The arms even detach and your child can wear the sleeves during dress up!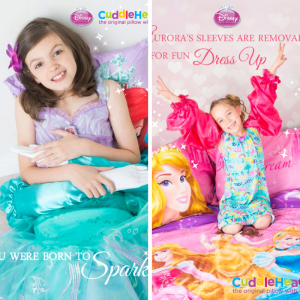 They are now available at Walmart Canada and I hope you can join us at a selected few Walmart locations this Saturday, July 19th from 11-4pm for their official release party. There will be a princess party that includes, giveaways, crowns, collector Disney bookmarks, and balloons. The girls and I can't wait to attend!
The Walmart locations included are:
1280 Steeles Ave E Milton, ON
800 Matheson Blvd W Mississauga, ON
Square One – 100 City Centre Drive Mississauga, ON
234 Hays Blvd Oakville, ON
22 Pinebush Rd Cambridge, ON
And little boys are not forgotten. This Christmas Cuddleheads will be releasing new designs and it looks like everyone's favourite snowman Olaf is included – yay! I may have to get that one for my little guy and me!
Will I see you on Saturday?
I received a Cuddleheads Pillow as compensation as part of my role as a Social Media Ambassador for YummyMummyClub.ca and Cuddleheads #CuddleheadHugs social media program. This post though is not sponsored and reflects my personal opinion about the product.