As I approach a busy conference and travel season I already anticipate the one thing that gets neglected – my sleep. With flights to catch, early morning breakfasts and keynotes, unfamiliar sleep environments and beds, and many a late night networking and catching up with colleagues, my sleep is ignored. I don't know about you but as I get older it gets tougher and tougher to bounce back from these multiple day conferences. The week after I am forever dragging my feet and barely keeping my eyes open.
So how can you protect your sleep while also making the most of your time at the conference?
Sign Up For Our Newsletter
Plan Ahead. Don't leave packing to the last minute. Starting off the night before your trip stressed doesn't bode well for getting some restorative sleep before you enter total conference chaos. Try and have all your documents set aside and suitcases packed with plenty of time for an early bedtime the night before you leave. I'm a self-employed mom of three under 7 years old so I get busy. It can be done. A little planning goes a long way.
Take Along Your Comforts of Sleep. It can be difficult for some to sleep in a strange bed and get the same quality sleep that they would at home so don't forget to pack items that will help make an unfamiliar environment more familiar. Create your own sleep-kit and throw it in your overnight bag. Your kit could include an eye mask, earplugs, familiar scents, a paperback novel you are reading before bed; you could even pack along your own pillow case from home. The familiar scent and feel can help you fall asleep easier and sleep more soundly.
Make Sure Your Sleep Tank is Full. Prior to your trip get some good solid sleep. Going into a busy time of travel, meetings, and late night dinners is always better when one is starting off well rested. Beginning your conferencing with an already existing sleep debt can make adjusting to time changes and crammed day-to-day schedules a bit trickier.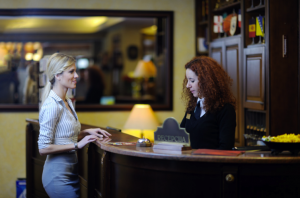 Communicate Your Sleep Wants. Once you've arrived at your destination there are a few steps you can take to protect your sleep throughout your time working. Hotels and resorts are now putting focus on sleep health in their rooms. They understand that a well-rested family or business traveller will have a better experience on their trip and at their location. If noise is an issue for you late at night ask that you aren't booked in a room close to the elevator or stairs. Some hotels will have actual designated quiet areas that they can book you in. Make sure to enquire. Once you get to your room check out the amenities they've made available to you. Do they have earplugs and eye masks you can use? Perhaps they have soothing lavender aromatherapy bath products. Some hotels may have pillow and bedding menus where you can choose your preference to snuggle in. And don't forget to ask if they have a turndown service. Nothing is better then having a dimly lit sleep prepped room waiting for you to enter after a long workday.
Go Easy on the Goodies. Listen I'm not going to tell you to not have a cocktail or two at night because I'm probably going to be right there beside you at the bar. And let's face it – staying away from the sweets table can be tough! But if you are trying to not go into total sleep deprivation while away moderation is key. Give yourself a daytime caffeine cutoff and go easy on the desserts right before bed. You may think alcohol helps you fall asleep easier but as it leaves your system while you sleep it will guarantee you a restless night of tossing and turning and a nasty headache in the morning. So go easy and try to drink one glass of water for every alcoholic beverage consumed.
Work hard, Play Hard, Rest Harder. It's a given. While you are away there are going to be late nights and early mornings. I can tell you to try to go to bed early at night and try to have a relaxing bedtime routine but let's cut to what's really going to happen. You are going to drag your tired self to bed each night and hopefully have the energy to take off your makeup only to have your wakeup call ring a few hours later. If you need to take a breather during the day, take one. A 20-30 minute catnap can do you wonders. If it's nice outside, get some fresh air and take a relaxing stroll to get your juices flowing. Know your limits and give your body a rest when it needs one.
Banish Jet Lag. Jet lag always hits you harder once you return home. You're likely bringing home sleep deprivation as a souvenir and couple that with your body clock adjusting to another new time and whamo! You have officially hit your brick wall. Start off resetting your circadian rhythms by getting out in the sunshine during the day. Open up your blinds and let that sunlight in first thing when you wake in the morning, and at night keep things dim and stay away from bright screens. If you haven't got into the habit yet, keep all electronic devices out of the bedrooms. We want to encourage your melatonin to release naturally with darkness, which aides in guiding your body clock back to it's normal sleep patterns.
And lastly…
Start the 7-Day Sleep Challenge. Once you return home and are settled back into your normal routine start your own 7-Day Sleep Challenge. For 7 days try to go to bed 30 minutes earlier and establish a tech curfew. No tech for at least one hour before heading to bed. Have a journal and pen on your night table and when you wake up get your creative juices going. You will be full of inspiration from the conference you just attended – write down blog post ideas, business thoughts, creative problem solving and solutions. At the end of the seven days compare your blog posts and themes to past posts. Analyze your accomplishments that week both in business and personally and see if you see growth.
How can you balance your work and life with adequate sleep?
Set Goals
Make lists and prioritize the work the needs to be done. Add sleep to your list, always. Before going to bed write down 3 things you want to accomplish the next day.
Scheduling is Necessary
You can do it all – work, family, activities, and sleep, when you've created a realistic schedule for yourself. Be committed to that schedule and follow it consistently.
Check in with @GNSleepSite using #7DaySleepChallenge and let us know how you are doing! If you see me at #Strut2016 come over and say hi and let me know if any of these tips have helped throughout the trip.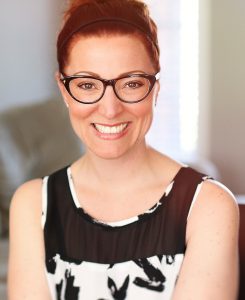 Alanna McGinn is a Certified Sleep Consultant and Founder of Good Night Sleep Site – a Global Pediatric and Family Sleep Team. She provides free child and family sleep support through her Facebook, Twitter, and Instagram. She invites you to join her sleep community as she works towards Good Night Sleep Site's mission of a healthier rested family unit. For more sleep tips please visit Good Night Sleep Site. Join our movement and #BringBackBedtime.