I had the pleasure of staying at The Phoenician in Scottsdale Arizona for the Mom 2.0 Summit. Having this resort as the backdrop for this amazing annual mommy blogger/brand event was icing on the cake. Conferencing poolside is the only way to do it, right?
Sign Up For Our Newsletter
Just a short 9-mile drive from the airport – thank you Kia for the lift! – The Phoenician, voted the AAA Five Diamond in 2014 and listed in Forbes Travel Guide, is a resort within a resort. This is luxury travel for parents with all the bells and whistles for the kids. Situated at the southeast base of Camelback Mountain (it really does look like a camel!) the Phoenician is home to 643 accommodations with the choice of 3 locations – the main building, the casitas, and the Canyon Suites.
The Phoenician resort is known for it's delicious dining facilities (10 locations throughout the resort), its award winning USGA Championship golf club with three 9-hole courses, and it's pools. There are eight pools all together with every one more inviting then the next. The weather while we were there was hot. I'm a Canadian gal and stick me somewhere in May with the weather in the 90's and I'm happy. I'll be honest, I'm not sure that I would want to feel the heat in July or August but to me you couldn't ask for better weather while we were there. While I networked and worked…ahem sat by the pools…my husband golfed. We celebrated his 40th in February and I surprised him with private golf lessons while we were there at The Phoenician Golf Academy. On day 3 of our stay he golfed from 9:30 in the morning until 7:30 at night! He was in his glory, I on the other hand was terrified he had collapsed from exhaustion and dehydration, but he was fine and he was happy. A couple of pictures stolen from his phone.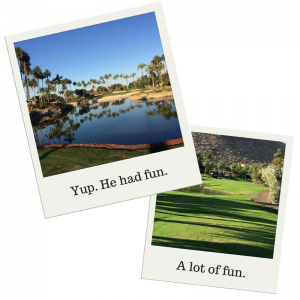 When you take a look around the resort you really feel as though you are surrounded in extravagance but what I also took note of was the number of kids there. Don't let the luxurious leisure of The Phoenician fool you. This is very much a family resort and they truly do think of the kids. Unfortunately my own children weren't there as this was a work gig, but while I was there I was able to check out The Funicians Kids Club. This is a daily, supervised program for kids between the ages of 5 and 12. For an added fee you can drop off your children to enjoy themed events, lunch, and an area that is equipped with a 60"flat screen TV, 56" flat screen TV's for Xbox Kinect, touch screen computers, and kidiZoom cameras. I thought my husband was going to ask if he could get dropped off for the day! It's pretty amazing. The resort also plans activities for teens such as badminton and volleyball, and a range of indoor and outdoor activities. And don't forget their 165-foot water slide and Surge water park for the kiddies. The Phoenician is minutes away from Scottsdale finest shopping and dining but the entire family can truly enjoy their Arizona vacation without even leaving the resort.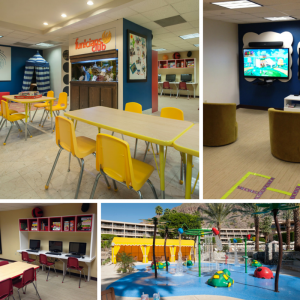 While enjoying my stay at The Phoenician I had the opportunity to check out The Canyon Suites hypoallergenic rooms. The Canyon Suites is a boutique resort within The Phoenician grounds with it's own secluded pool and cabana. Walking into the lobby of this boutique resort simply took my breath away. The suites are situated right at the base of Camelback mountain and the picture I took is directly outside of their main lobby. Beautiful.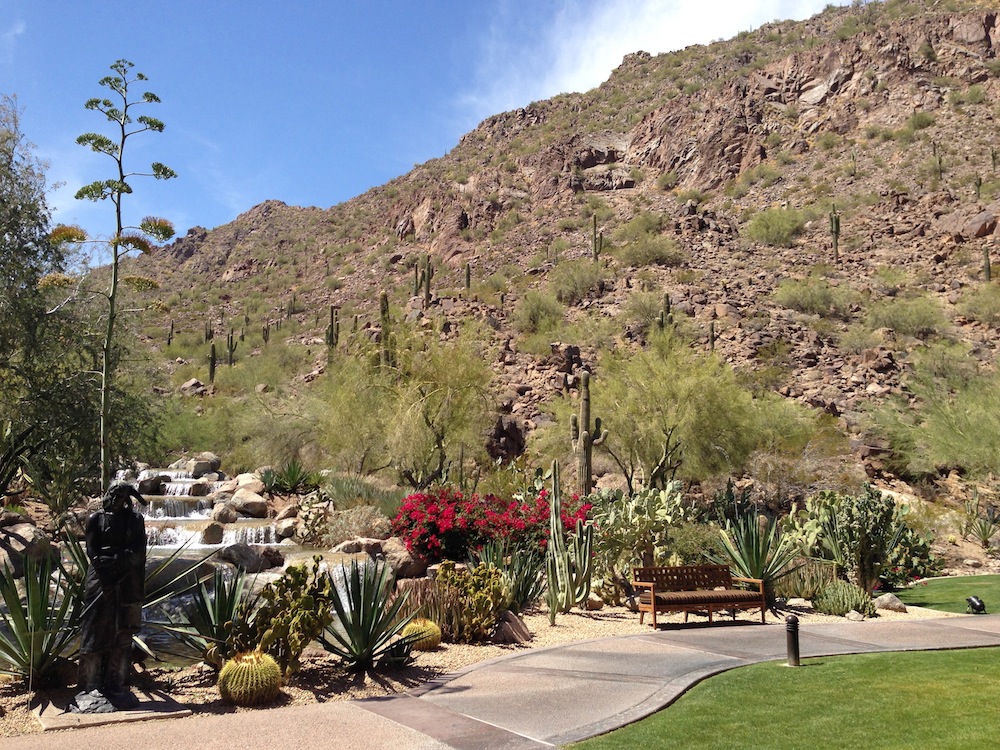 With only two hypoallergenic suites in the complex I found the concept of these rooms an interesting one and though I didn't stay in these suites I wanted this room to be my focus in my Snoozes and Loses. I had a great tour from The Phoenicians director of public relations and marketing communications, Denise Seomin. When I asked her why they had created these hypoallergenic rooms she told me the idea had originated from their guests in listening and responding to their needs. The resort had already placed much attention on accommodating food allergies at the restaurants and it was important to them that they also focused on other sensitivities. The hypoallergenic rooms are part of The Canyon Suites commitment to creating a personalized guest experience that speaks to such requests.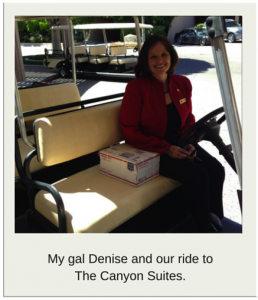 ---

Good Night Sleep Sites Snoozes and Loses of The Canyon Suites in Scottsdale Arizona:
The Snoozes
Although there are only two hypoallergenic suites within The Canyon Suites each has a very spacious guestroom, for a total of 4 rooms, making both suites suitable for families. Being a family of five it can be tough to book a big enough suite where we aren't stepping all over each other so I liked this right away. Both suites can be combined for a large friend or family group booking.
With the launch of their dog-friendly program last year, both hypoallergenic suites are located on the second level, which is a pet free level. This creates more of a quiet zone for sensitive sleepers and perfect for pet allergy suffers.
When they say hypoallergenic they mean it. Every 6 months each suite is serviced by EcoClean and the accommodations are maintained through their extensive purification protocol that includes organic products and disinfectants for cleansing carpets and upholstery. The suites state of the art Swiss air purifiers eliminate chemicals and particles ensuring the cleanest and freshest air possible. Another special cleansing element also is placed in the air conditioning units to eradicate bacteria with tea tree oil.
This is the first conference ever that I didn't feel like a truck hit me the following week. Why? Because I slept amazingly! My trusty earplugs (that I swear by) helped me get some good quality shut eye but the resorts beds are absolutely dreamy. Their Signature Luxury Collection Simmons Beautyrest Euro Top beds are covered in fine 300-thread-count Italian linens from Rivolta Carmignani. For their hypoallergenic suites there is special hygienic casing for the mattresses and pillows to protect against bacteria and allergens. Also there are foam pillows at request.
The hypoallergenic detail doesn't stop in the Italian marble bathrooms. Each bathroom has dedicated filters have been installed within the bathrooms' shower heads to remove chlorine and each room is equipped with Malin+Goetz hypoallergenic bath products created with all natural ingredients that is specific to these suites.
The resorts bedtime turndown was a bonus. I'm sorry but who doesn't like chocolates by the pillow and fresh slippers waiting for you.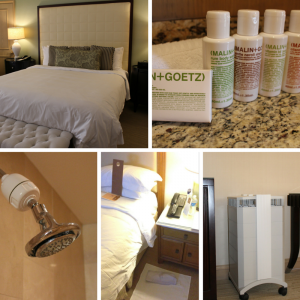 The Loses
*I'll admit there weren't that many. And the ones I'm going to mention weren't make it or break it for me. As I mentioned I slept really well at The Phoenician despite the busy schedule and jet lag.
Black out blinds upon request. While the curtain panels provided enough darkness, with the hot Arizona sun beating down I would have assumed that black out and heat resistant blinds was a room amenity, rather than a request if needed.
No eye masks or earplugs. While this may not be a big deal to others I love my earplugs and as I mention they help me sleep better when I'm away from home. Thank goodness I packed some in my overnight bag.
I'm a sucker for a hot shower with great water pressure. I found that I had to turn on the shower at least 5 minutes before getting in in order to give the water time to heat up – no matter what time of day I showered – and the water pressure could have been a bit stronger for my liking.
We really enjoyed our stay at The Phoenician and I think to those who suffer from any sensitivities the Canyon Suites is where you need to stay on your upcoming Arizona trip. The take away I got from this resort is they really do try to meet and exceed any needs that their guests have and while that's important to most it's especially important to those who have allergies and sensitivities. Next trip to Arizona will be with the family and we will be definitely booking at The Phoenician again.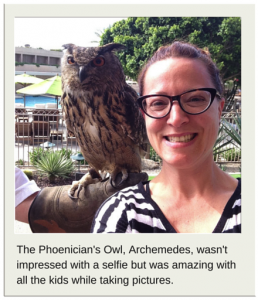 Thank you for a wonderful trip Arizona and The Phoenician. I look forward to returning to your warm weather, gorgeous balcony views, and nacho chips.
– Alanna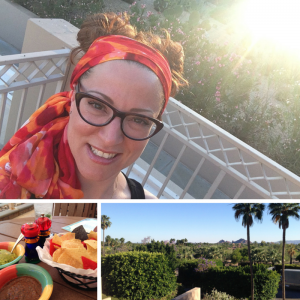 Follow #GoodNightTravel for Good Night Sleep Site's Family travel and sleep adventures and tips.
Alanna McGinn is a Certified Infant and Toddler Sleep Consultant and Founder of Good Night Sleep Site – a Global Pediatric and Family Sleep Team. She provides free child and family sleep support through her Facebook, Twitter, and Instagram. She invites you to join her sleep community as she works towards Good Night Sleep Site's mission of a healthier rested family unit. For more sleep tips please visit Good Night Sleep Site.