Our summer family trip this year was to Martha's Vineyard, Massachusetts. While traveling to Martha's Vineyard with kids may not be the top of everyone's list it was a family vacation I took as a child and still have vivid memories of the fun my family and I had. We decided this summer rather than renting a cottage we would instead plan a road trip to Martha's Vineyard. The kids were older and could handle the drive now and I wanted to create an adventure for my family, spend time in a beach town with daily excursions, and eat great food! I wanted the ocean, not the lake. I wanted to create the same memories for my kids as my parents did for me. So off to Martha's Vineyard we went.
The first step in planning our trip was figuring out where we were going to stay. The island of Martha's Vineyard consists of a few towns, the main ones being Oak Bluffs, Edgartown, Vineyard Haven, West Tisbury, Chillmark, and Aquinnah. While each town is worth visiting, if you are traveling with children my recommendation is to stay in Oak Bluffs. This town is home to two major public beaches (Oak Bluffs Town Beach and Joseph Sylvia State Beach), amazing family friendly restaurants (though the food in every town is delicious), and a lot of fun activities for the kids to do. If you are headed to the island with kids Oak Bluffs is where you will spend most of your time, guaranteed. Edgartown and Vineyard Haven would be a close second and third with amazing shopping and sites but less for the kids. If you are lucky enough to have someone watch the kids while you are there these two towns are perfect for some alone parent time and nightlife.
Sign Up For Our Newsletter
I enjoy having our own space, with a kitchen and washer and dryer (less packing!) so when determining where we would lodge renting a house is what worked for our family and we found a lovely bungalow, with all our family's necessary amenities (including an outdoor shower!) on VRBO.com.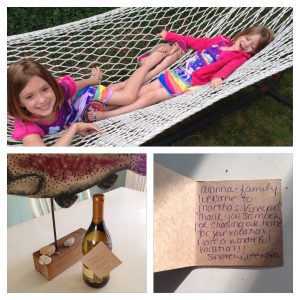 That being said there are many family friendly resorts in Martha's Vineyard. If staying in a resort is the answer for your family may I suggest:
Dockside Inn – Located right on the harbor – Oak Bluffs
Isabelle's Beach House – Right across the street from the beack – Oak Bluffs
Pequot Hotel – Located amongst the historic "gingerbread houses" – Oak Bluffs
Winnetu Oceanside Resort – Perfect for families, located right on South Beach. Edgartown
Okay so you know where you are staying and have your accommodations booked. The next thing on your list of things to do is to book the ferry. And book it EARLY. The only way of getting on the island is boat or plane and if your plan is to take your car over on the ferry spots book up QUICKLY. Contact Steamship Authority as soon as possible.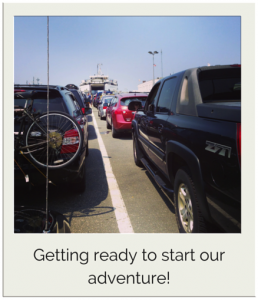 In my next post I'll be writing about family fun activities on the island and the food.
Oh my word the food…
– Alanna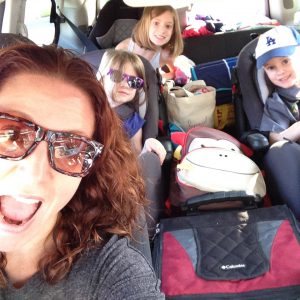 Follow #GoodNightTravel for Good Night Sleep Site's Family travel and sleep adventures and tips.
Alanna McGinn is a Certified Sleep Consultant and Founder of Good Night Sleep Site – a Global Pediatric and Family Sleep Team. She provides free child and family sleep support through her Facebook, Twitter, and Instagram. She invites you to join her sleep community as she works towards Good Night Sleep Site's mission of a healthier rested family unit. For more sleep tips please visit Good Night Sleep Site. Join our movement and #BringBackBedtime.