Why You Need to Book Your Own Mont Tremblant Summer Family Trip
This summer when planning our family road trip I wanted to stay within Canada. There is so much of this beautiful country to see and well…our dollar. Staying in Canada was the best choice on many counts.
Sign Up For Our Newsletter
A Mont Tremblant summer family trip seemed like a good idea. It wasn't too long a drive and the resort feel and available activities for the kids really sealed the deal. I also have family in Montreal and using this trip to be able to stop in there on the way for a quick visit worked out perfectly.
When planning our Mont Tremblant summer family trip it seemed a bit overwhelming as to where to stay and how to find out what's available for the kids. Using their booking agents worked well for me as they were able to point me in the right direction, book what worked for my family, offer me summer deals in lodging, and really make sure that all my family's needs were met.
Where To Stay
There are many resorts to stay on the property. Ones that match all family price points. There are also many homes, chalets, and cottages that you can rent close to the resort for your Mont Tremblant summer trip.
Because they are so health and sleep focused I had gravitated towards Mont Tremblants Westin Resort and Spa. Their two-bedroom suite with kitchen and their location within the village seemed perfect. I always like to book a room with a kitchen as I want access to making our own meals if need be, laundry facilities are a definite bonus, and enough space where all 5 of us can sleep is key. Our Westin lodging fit all those needs and our suite certainly did not disappoint. I have never seen the kids (and hubby for that matter) more excited about a hotel room. Mama done good.

As I mentioned the Westin focus's on enhancing your well-being. Through their Sleep Well program, each room comes equipped with their signature Heavenly Bed and Pillows, even a Heavenly Dog pillow is provided to dog owners, as small to medium dogs are allowed within the hotel. The mattress and pillows (actually more so the pillows) were heavenly indeed. Each of my family members slept comfortably and soundly during our stay. Also provided is the Westin's Sleep Well Menu – a curated selection of sleep-enhancing superfoods developed in partnership with SuperFoodsRx and are available through in-room dining. We didn't do any in-room dining but it was great to know that service and quality of food was available.

I could write an entire post just on our Westin stay alone and these pictures don't do our room or the resort justice. It was really a perfect location, and it was so hard to leave.
What To Do
With the help from our booking agent we were able to get a better idea of the activities that Mont Tremblant had to offer and there were many. The first thing was to purchase our activity cards and purchasing it through the booking agent will get you 10% off, rather than if you purchase it in the village when you arrive.
You can purchase 3, 5, 7, or 10 activities per activity card. This will give you passes for activities such as:
Iceberg
Eurobungy
Climbing Tower
Mini golf
Akropark
Luge
Birds of Prey Show
Panoramic Gondola
A good tip is to buy fewer activities for the parents, as you won't use up nearly as much as the kids would.
My kids certainly had their favourites of activites. The Luge and Eurobungy was at the top of their list!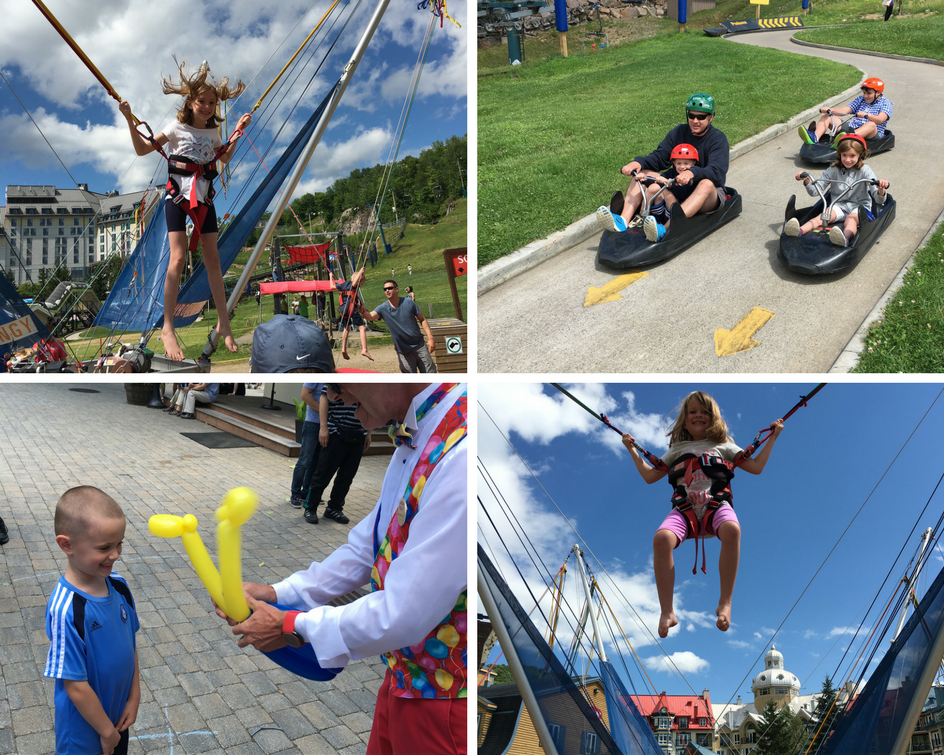 The activity cards also provide you access to the beach. If I can be totally honest, the beach was a bit disappointing. It was small and crowded and you couldn't bring in your own food or drinks. What we did love about it though was the access to all the water activities. We had a blast renting a boat and watching the kids experience their first boat ride.

Depending on the ages of your children there are even more activities and excursions that you and your family can book while there. Keep in mind that these are at extra cost. Most of these excursions started at the ages of 8 and older so with the twins only being 5 we weren't able to book any but it just means that we have to come back! Not a whole lot of convincing on that part. Some excursions you can book are:
Ziptrek Ecotours
Horse back riding
Dune Buggy
White Water Rafting
What To Eat
There are many places to eat in the village that can suit everyone's pallet. From Asian to Italian, and from barbeque to Greek, you can have a different cuisine experience each day.
As I mentioned I like to book suites with kitchens so that breakfasts could be eaten in our room, and the odd meal here and there. Eating at a restaurant for every meal isn't in our budget and always ends up being a waste of food with the kids. There were some restaurants and meals we were excited to try though and of course poutine was high on that list.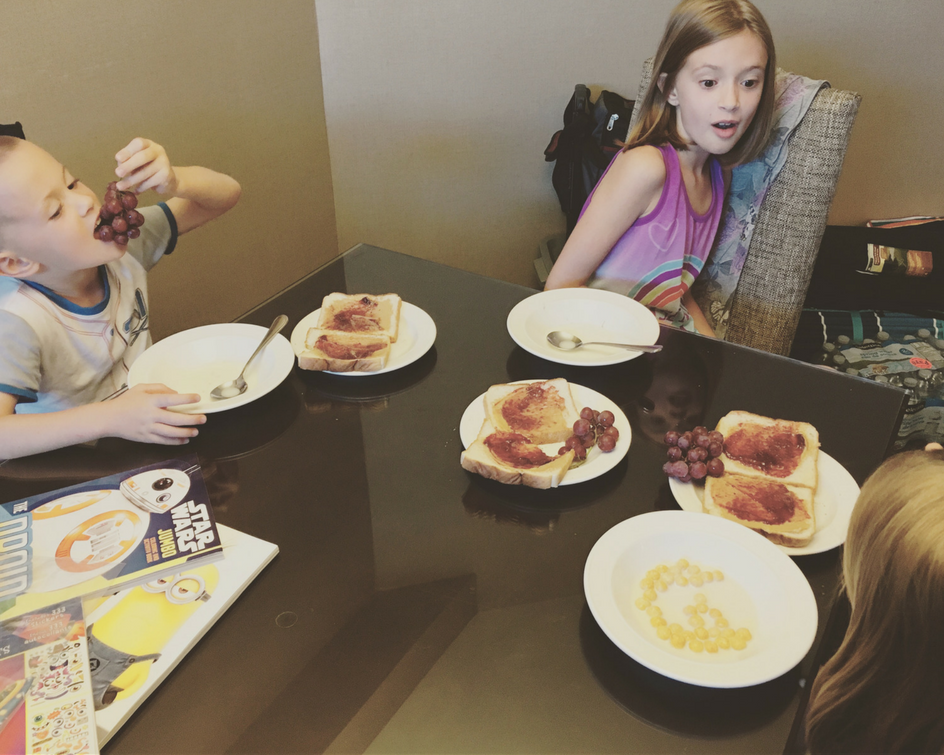 Smoke's Poutinerie Tremblant can't be missed. It was the kid's first experience of poutine and they were hooked. Taking the Cabriolet down and have a quick poutine became a bit of a daily occurrence.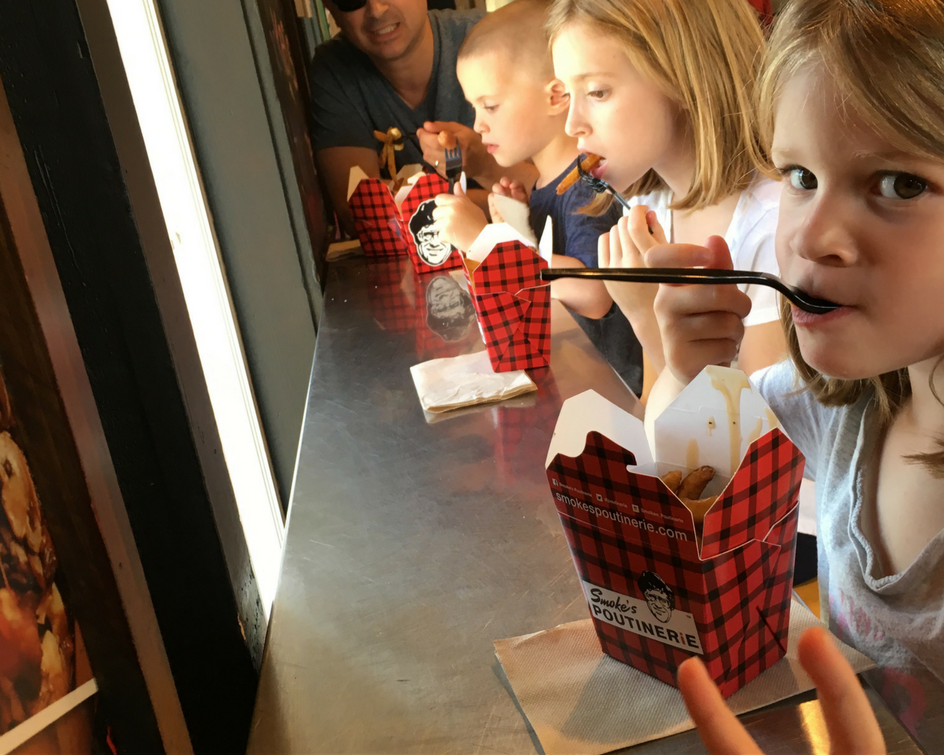 Other restaurants we tried out were:
La Forge Bistro-Bar & Grill
With two floors, each with their own menus we made this our last nights meal. Right at the foot of the mountain the view is beautiful and though we didn't make it up to the second floor, I have heard that you haven't had a steak until you have a steak at Le Grill steakhouse.
Guys, this is poutine with smoked meat on top. Mind. Blown.
Yes, I ate a lot of poutine but look there's a salad!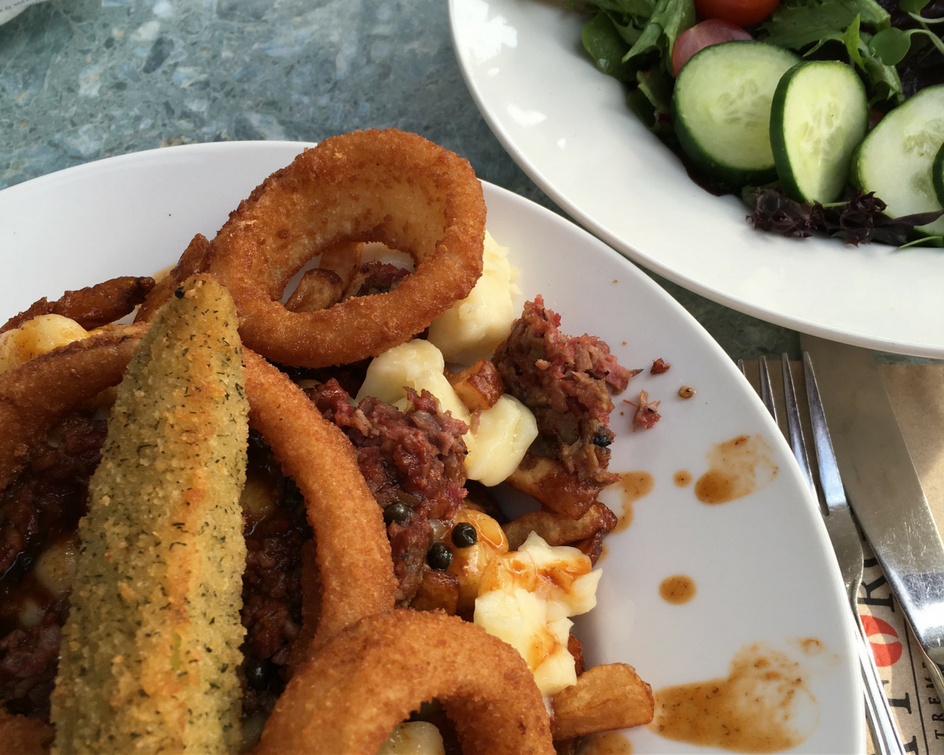 Le Grand Manitou
This Quick service restaurant is just a gondola ride away, right at the top of Mont Tremblant. The views are breathtaking.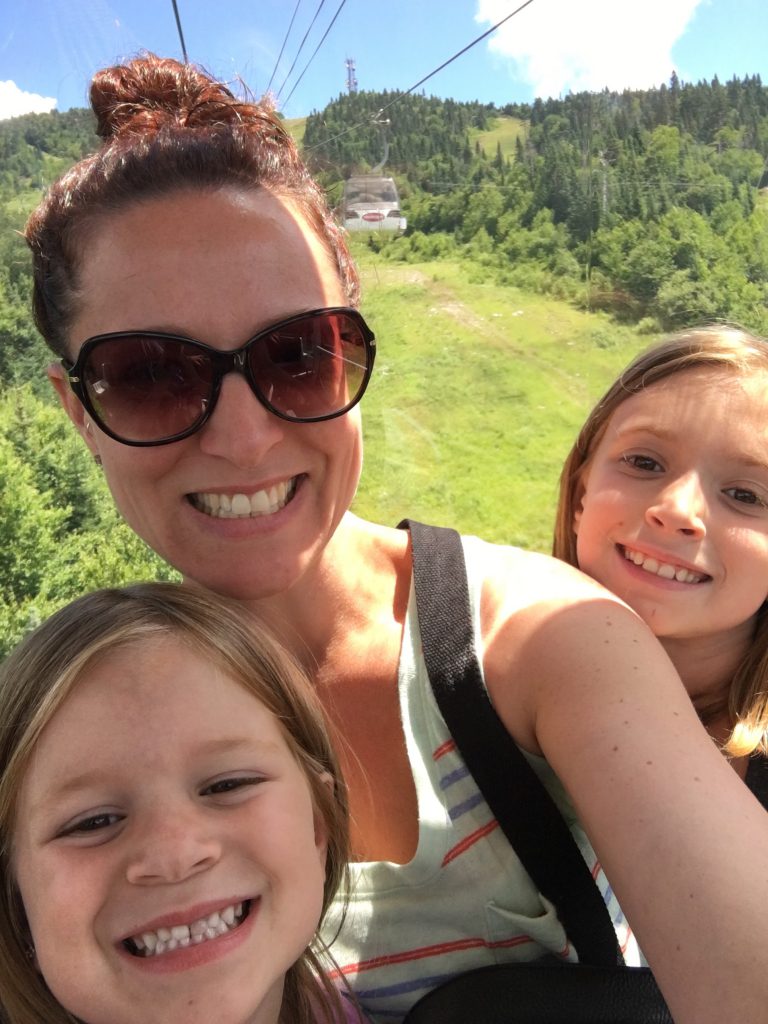 Candy Shop
Where old school candy still exists and where I introduced the kids to Pop Rocks.
Oh la Vache!
A quaint little ice cream shop where we frequented a few nights before our nightly village stroll.
Sugar Shack
Ask them about their maple syrup lollipops and the kids can make their own. Even in the summer!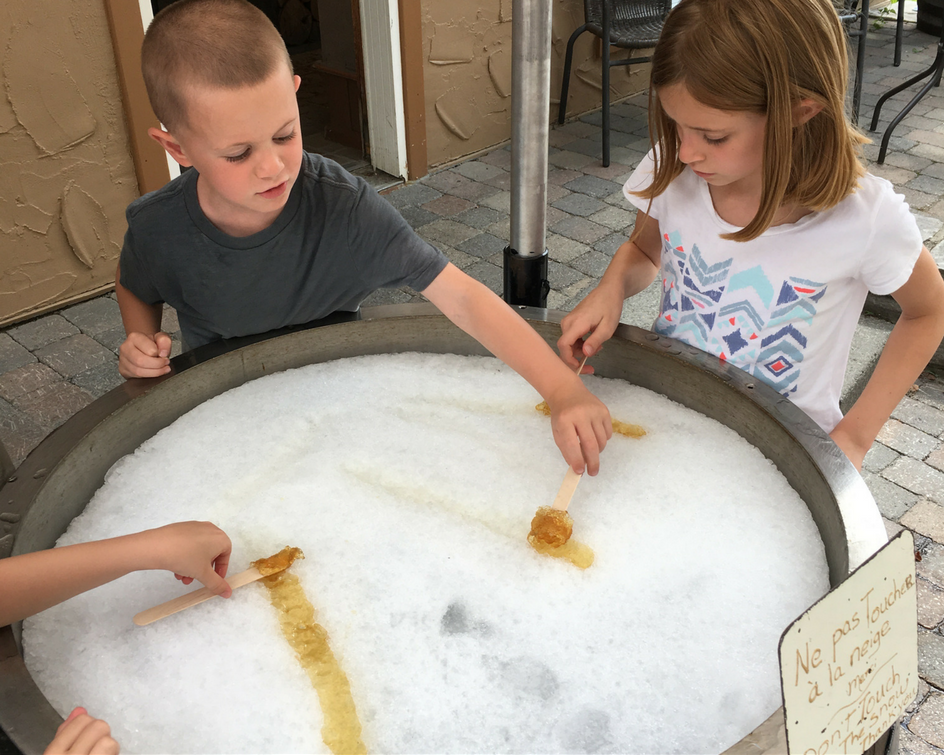 We ate well while staying in the village, and a piece of advice for everyone would be to not get your physical blood work done 2 days after returning home and freak out that your cholesterol is higher than last year, only to have your husband remind you that you just lived off of poutine and smoked meat for a week. Riiight.
I have to say, high on my list of my favourite things I got to do was my early morning hikes through the village. Getting up before the family woke and walking through the village when it was quiet and calm was the best form of meditation for me each morning. It was one of my treasured times of the day and taking in the serene surroundings was magical.

I did promise my family though that I wouldn't hike up to the red chair without them. We hiked, we conquered, and I let them build a bear at Univers Toutou because of it.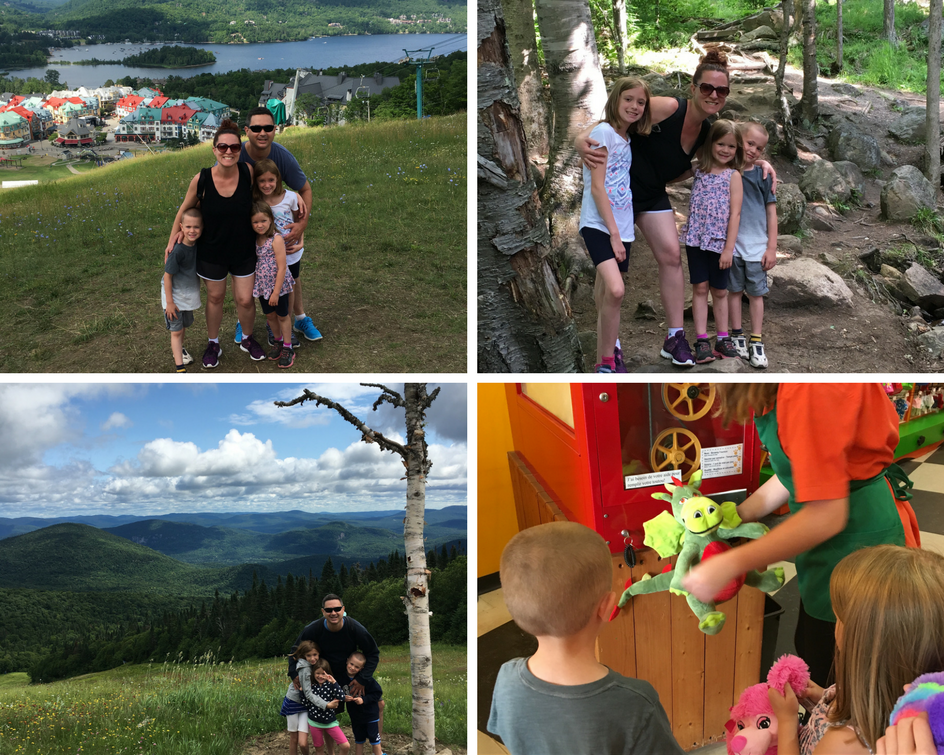 Merci Mont Tremblant for a trip that my family loved and will remember. We will be back soon.
-Alanna

Alanna McGinn is a Certified Sleep Consultant and Founder of Good Night Sleep Site – a Global Pediatric and Family Sleep Team. She provides free child and family sleep support through her Facebook, Twitter, and Instagram. She invites you to join her sleep community as she works towards Good Night Sleep Site's mission of a healthier rested family unit. For more sleep tips please visit Good Night Sleep Site. Join our movement and #BringBackBedtime.