Ready to Choose the Perfect Mattress?
Like so many in my phase of life you get married, buy a new house, and start a family. Throughout the years you furnish and decorate that house and make it into a home, and one of the first purchases you may have made was a new mattress for your bedroom.
…Then life happens and you start your family and years pass and your children's needs trump yours and before you know it 10 years have passed and your once perfect mattress has more valleys than the Grand Canyon.
Sign Up For Our Newsletter
"Your mattress is the most important piece of furniture you're going to own."
Choosing the right mattress for you really depends on preference. The best route to take is to try the mattress before purchasing and have a variety to choose from. While online mattress shopping is becoming popular your mattress is the most important piece of furniture you're going to own and it's important to test it out before you purchase it.
We headed to Leon's Furniture because I knew they had a wide variety of mattresses to choose from and they were in the business of sleeping better. I mean they've been selling mattresses for over a century! We were also able to speak to one of their sleep associates who helped guide us through the process. Even a sleep expert like myself can find mattress shopping overwhelming. With so many mattresses to choose from and really wanting to find the best one for my husband and I working with their associates who are expertly trained made the process that much easier.


Here's what I learned:
The two main mattresses to choose from are memory foam and innerspring coil mattresses. Innerspring mattresses will give you more of a bounce where memory foam mattresses will give you more of a hug. It's really a personal preference and that's why laying down on the mattress to try it out is so important. Here I thought I would prefer a memory foam mattress but after testing some out I realized I liked a bit more of a bounce.
You want to lie down on the mattress and try it out for 5-8 minutes. Lie in the position you sleep in and use a pillow.
Check return policies and warranties. Leon's has a 60-Day Price Guarantee so if the mattress I bought went on sale they would refund me the difference. They also have an amazing warranty with the majority of their mattresses having a full 10-year warranty where the product will be replaced at no charge if a defect occurs.
Don't be overwhelmed by coil count. While you should look for a mattress with a coil count of no less than 700, a mattress with a coil count between 900 and 1100 can work great.
The more aches and pains you have, the more coils you want. You want to maintain full coverage. This is when your body is completely contoured by the mattress so that all pressure points are supported. Make sure to check that all the hollows – small of your back and above the hip when lying on side, etc. are supported.
So, my husband and I chose the right mattress for us but we also wanted to make sure that we kept this mattress healthy. Thankfully Leon's had us covered with some amazing sleep accessories and products to choose from.
How to Keep Your Mattress Healthy:
Use a Mattress Protector. It keeps the mattress clean and protects you from dust mite allergens.
Rotate your mattress at least every 3 months.
Vacuum it every season to remove allergens.
When you are going away leave your bedding off the mattress to let it breath.
And Don't Forget to Freshen up Your Bedding:
Wash sheets and pillow cases weekly.
Replace your pillowcase and pillow every 6 months to a year.
Putting your bedding on your bed while still slightly damp will help you avoid wrinkles and banish ironing!
To increase the longevity of your bedding wash in a cooler cycle as hot temperatures can break down the fibers quickly.
Within 24 months (or less) your pillow can double its weight in allergens and…dust mites! Avoid dust mites by seasonally washing your pillow and vacuuming your mattress.
And don't make your bed every day! This will allow the dust mites to dry out and not thrive under a hot and humid blanket.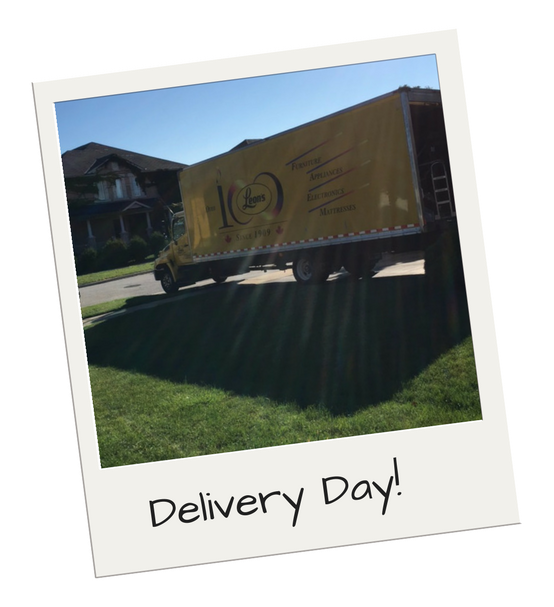 The day of delivery was a fun one for my family! We were all excited to see the big yellow Leon's truck pull around the corner and the delivery of our new mattress. I actually found myself getting a little sentimental too. My old mattress gave me comfort during each of my pregnancies, but now my kids are older and grown and it's time for a new chapter for mom and dad. It's time to focus on our own needs a bit more so that we can be the best parents we can be.
Better Sleep Update!
For the past year I would wake up with a stiff back and sore shoulders. I chalked it up to #ThisIs40. I have to say that with only 2 nights on the new mattress the pain in the morning is gone. No joke.
Our new mattress has been a game changer for my husband and I.
Now if only I could get him to stop snoring…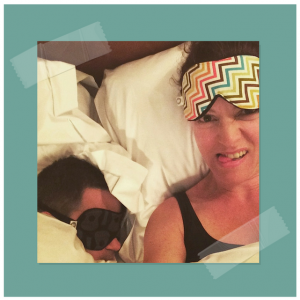 Disclosure: Good Night Sleep Site and Leon's Furniture have partnered to help you choose the perfect mattress to help you get a good night's sleep for a successful day tomorrow. All opinions expressed are those of the author.
---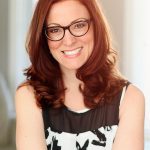 Alanna McGinn is a Certified Sleep Consultant and Founder of Good Night Sleep Site – a Global Pediatric and Family Sleep Team. She provides free child and family sleep support through Facebook, Twitter, and Instagram. She invites you to join her sleep community as she works towards Good Night Sleep Site's mission of a healthier rested family unit. For more sleep tips, subscribe to our newsletter and visit Good Night Sleep Site.