Any excuse to get crafty with bedtime routine and I'll take it! If I can make going to bed more fun for my kids and yours, well why not? The holidays are the perfect time to get the glitter and glue out and this Easter is no exception. When you think about Easter and fun what automatically comes to mind? An Easter egg hunt of course!
Displaying your child's bedtime routine in a fun and creative way can help make bedtime a little less tricky and a lot easier to follow for your little one.  I found this amazing egg wreath and turned it into a fantastic "bedtime routine clock."
Sign Up For Our Newsletter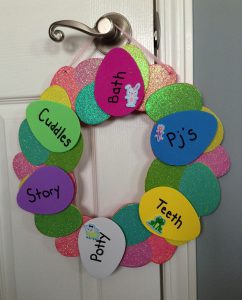 I used festive Easter stickers in the Easter eggs instead of the usual chocolate. It's never a good idea too add chocolate to your little one's bedtime routine ;-).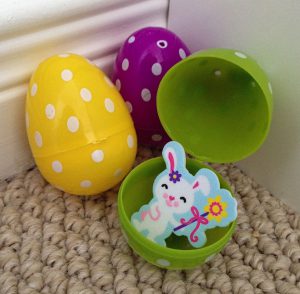 As your child finds an egg and a sticker they can place it on the next bedtime routine step once you have completed it.  It can be a fun adventure for them and it can get them to bed with a smile on their face and no battles for mom and dad. Make sure you start the hunt early enough so you're not cutting into bedtime and have fun!