We all know screen time before bed inhibits our sleep. It's time adults close our laptops, put down the tablets and get back into the page-flipping scene. We're bringing back bedtime and the romance of books with you and your partner. Forget book clubs with friends, it's time to find out how to host a book club with your partner. The benefits of ending the night earlier and settling down together with a book are endless. Dust off those paperbacks, reading glasses and make a date night at your local library or bookstore.
How to Host a Book Club With Your Partner
Discuss common interests and themes. What books do you like? Are you more fiction, non-fiction, sci-fi or mystery?
Together or solo. Not all book clubs need to have everyone reading the same book, especially if it's just you and your spouse. It's okay if your interests are different and if you'd prefer a historical fiction over a biography, that's fine! When you're enjoying what you're reading, the pages will turn. Discussion questions can relate to any genre and if you do read the same book – great, perspectives are always different.
How often & when. Set realistic expectation for how often you're going to read and finish your books. A book a month? Every two weeks? Here's a tip: set a timer for a certain time each night and make it your cut off time to turn down for the evening (both you and your partner) and pick up your book.
Set a date. Once you've decided on books, and how often you'll be reading, set the start and end dates into your calendar. Even go as far as booking a babysitter for a 'book date'. This added incentive of a night out will hopefully encourage you to finish the book and enjoy your night out. To kick off your book club date night, take a trip to your local bookstore or library and pick up your current selection.
So you've read the books and now what?
Part of keeping you engaged in a book is keeping the conversation going once you're done. Whether you've read the same book, or opted for different books, you can discuss your thoughts and perspectives together. As per above, make a night of it, hit up a local coffee shop or restaurant or take your book date back to the bookstore for your next selection.
Sign Up For Our Newsletter
Here's some questions you can ask each other:
Why did you choose that book?
What did you enjoy the most out of the book?
Are there situations or characters you can identify with?
What would I (your partner) find interesting about the book?
Did you learn something?
Any passages or chapters stand out to you?
What were your favourite characters and least favourite?
Would you recommend it to others?
If you could change something about the book, what would it be?
What are we reading next?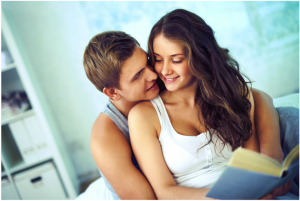 Tips To Keep You On Track With Your Reading
Set a time each night as your cut off point to walk away from the day to day stuff and make your way to bed and pick up your book
Hold yourself and your partner accountable. Challenge each other to reach your reading goals.
Start a chapter challenge. Set a midpoint goal of your book and create a little friendly competition to get there.
Bring your book with you. Pack it in your bag or purse and sneak in some reading time when you can.
Print your own #BringBackBedtime Bookmark here.
It's not always easy to cut back on life's requirements and take time out of your night to read, but it can be done and the rewards by far outweigh the cons. Getting to bed earlier and diving into a book is a great way to get you unplugged and allows you to sail away from a hectic day, enjoy a great story and more importantly, keep you rested and connected with your partner.
Contributed by Good Night Sleep Site Consultant – Liane Mamo
---
Good Night Sleep Site is a Global Pediatric and Family Sleep practice. We provide free child and family sleep support through Facebook, Twitter, and Instagram. We invite you to join our sleep community as we work towards Good Night Sleep Site's mission of a healthier rested family unit. For more sleep tips, subscribe to our newsletter and visit Good Night Sleep Site.